Review: 'Departures'
Quirky Japanese film follows a cellist's inadvertent career change to corpse dresser after his orchestra disbands.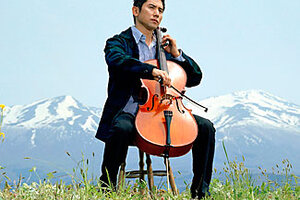 Regent Releasing/AP
The winner of the Academy Award for best foreign film last year, "Departures" is sappy and wacky – not the best combination. Daigo (Masahiro Motoki) is a cellist who leaves Tokyo following the disbanding of his orchestra and returns with his wife (Ryoko Hirosue) to his northern homeland. In need of work, he stumbles into a job advertising "departures," but instead of a travel agency, it turns out to be a kind of mortuary. Once he gets over the ghastliness of it all, Daigo becomes an expert corpse dresser, performing ritual casketings of bodies in the presence of aggrieved family members. Director Yojiro Takita tries unsuccessfully to sustain a tone of gentle, benighted eccentricity. Except for a few of the performers – especially Tsutomu Yamazaki as Daigo's straight-faced boss – not much here is memorable.
For the record, "Departures" won out last year over two infinitely better films, "The Class" and "Waltz With Bashir." Ditto "Everlasting Moments," which wasn't even among the five Oscar finalists. Grade: C+
---
Follow Stories Like This
Get the Monitor stories you care about delivered to your inbox.