Review: 'Away We Go'
In this neohippie movie, a young couple travel the country in search of a new home to start their family.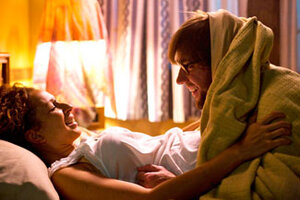 Francois Duhamel/Focus Features/AP
"Away We Go" seems like a movie out of time, which is not the same thing as timeless. With few alterations it could pass for a movie from the early 1970s. A road-trip odyssey, it fobs off nonconformity as a spiritual virtue. It's a hippie movie for the 21st century.
The problem, is, the best hippie movies – like, say "Alice's Restaurant" – were not as relentlessly engineered as "Away We Go," which was written by husband-and-wife alt-lit icons Dave Eggers and Vendela Vida. Sam Mendes, who directed, is renowned for such hypercontrolled, diagrammatic movies as "American Beauty" and "Revolutionary Road." His work here is much more wayward and (seemingly) improvisatory than usual, but finally the film is a species of screed. Instead of taking it out on the soulless suburbs, as in those other two films, Mendes is indicting just about everywhere else. High or low, urban or the sticks, anomie is still anomie.
John Krasinski and Maya Rudolph play Burt and Verona, a rural Colorado couple expecting their first child. When his parents (played, risibly, by Jeff Daniels and Catherine O'Hara) unexpectedly announce that they are moving to Belgium, Burt and Verona decide to hit the road in search of a better place to live and bring up their baby. (Conveniently, both are freelancers – he sells insurance over the phone, she's a medical illustrator – with no need for a permanent address. In hippie movies, income is never a big issue.)
---
Follow Stories Like This
Get the Monitor stories you care about delivered to your inbox.