Review: 'Summer Hours'
This finely drawn French family drama is a meditation on our changing relationship to possessions.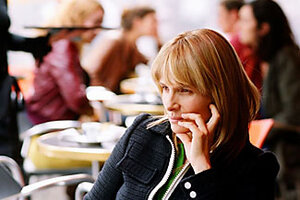 Jeannick Gravelines/IFC/AP
The French film "Summer Hours" was initiated under the unlikely auspices of Paris's Musée d'Orsay on the occasion of its 20th anniversary. As benefactors go, I much prefer to see a movie commissioned by a famous French museum rather than by some fat cat vulgarian.
Given the film that writer-director Olivier Assayas has made from this commission, the film-museum connection makes sense. "Summer Hours" is, among other things, about the hold that artworks have on us because of their place in our lives and our memories.
The film begins at the rural summer family retreat of Hélène Berthier (Edith Scob), who is celebrating her 75th birthday with her two sons, Frédéric (Charles Berling) and Jérémie (Jérémie Renier), the son's wives (Dominique Reymond and Valérie Bonneton) and children, and her daughter Adrienne (a blonde Juliette Binoche). A golden-toned lushness pervades the scene, but the mood shifts when Hélène, whose home is filled with valuable art, takes Frédéric aside to confide in him. Because he alone among the siblings is rooted in France – Adrienne is a designer in New York, Jérémie is forever flying to China on business – she unofficially appoints him the ultimate caretaker of these treasures (including paintings by Corot). She wants the pieces left to a museum and not sold off piecemeal.
---