Review: 'The Taking of Pelham 1 2 3'
Remake of 1974 thriller set in New York's subway bristles with high-tech gimcrackery as John Travolta and Denzel Washington play tense head games.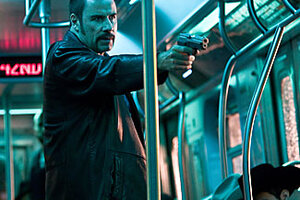 Stephen Vaughn/Sony Pictures/AP
Way back in 1974, when the world was young and New York was mere meadowlands, a pretty good thriller called "The Taking of Pelham 1 2 3" screeched onto the screen. It starred Walter Matthau as a subway dispatcher forced to deal with the hijacker of a subway train, played by Robert Shaw just before he made "Jaws." The ransom demands were simple: One million in cash delivered within the hour or hostages would be offed one per minute.
In the remake, Denzel Washington is the dispatcher and John Travolta is the bad guy and the ransom is $10 million. That ransom isn't the only sign of inflation. Whereas the original, directed by Joseph Sargent, was essentially a well-oiled B movie, the new incarnation, directed by Tony ("Enemy of the State") Scott, is bristling with high-tech gimcrackery and over-the-top camera flourishes. Scott is the kind of director who can't just show you something – he has to pull our eyes out of their sockets. Doesn't he realize that the New York subway netherworld is already a stage set? Scott's whirlybird camera moves and editing rhumbas don't add to the mix, they detract.
---
Follow Stories Like This
Get the Monitor stories you care about delivered to your inbox.