Betty White the only good part of the movie 'The Proposal'
Romantic comedy is a rehash of old jokes and the predictable can't-stand-each-other-but-fall-in-love progression.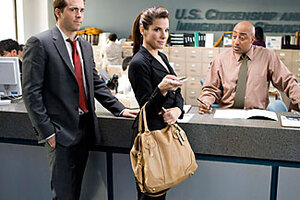 Kerry Hayes/Touchstone Pictures/AP
Every once in a while – too often these days – a movie from a major studio comes out that makes you wish there was a federally funded quality control review board in Hollywood. The monumentally unfunny "Land of the Lost" was bad enough. Now there's the monumentally unromantic "The Proposal," a dud of a different sort. Instead of being about dinosaurs and time warps, it's about gags that were old when dinosaurs ruled the earth.
Sandra Bullock plays Margaret Tate, a martinet New York book editor whose underlings quake in fear of her. (I'm beginning to regret "The Devil Wears Prada" ever got made.) Ryan Reynolds is Andrew Paxton, her all-purpose and much-abused assistant who puts up with her because he wants to be an editor himself. (Like I said, I'm regretting the existence of "The Devil Wears Prada.") By a twist of fate, and bad screenwriting, Margaret, a Canadian citizen, must marry Andrew in order to remain in America. He agrees to the arrangement because he thinks it will get him an editor's job.
---