Review: 'Whatever Works'
Woody Allen returns to familiar territory with a misanthropic New York physicist played by Larry David.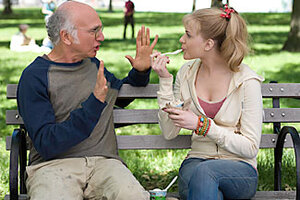 Jessica Miglio/AP
Woody Allen's "Annie Hall" was originally titled "Anhedonia" – the inability to feel pleasure – and that title could easily label most of his other movies, none more so than his latest, "Whatever Works." While it would not be entirely correct to say that the film's lead character, Boris Yellnikoff (Larry David), gets no pleasure from life – he enjoys, for example, insulting people – it's close enough.
The law of diminishing returns is at work in "Whatever Works," which is like a compendium of a half-dozen earlier and better Allen movies. Since some of those movies, such as "Annie Hall" and "Hannah and Her Sisters," were very good, this is not altogether a bad thing. Still, about halfway through the intermittently amusing "Whatever Works," I began thinking, as I often do at middling Woody Allen movies, that he'd be a better film director if he made fewer movies. His one-a-year clip is admirable but also obsessional. When he doesn't have anything particularly new to say, he says it anyway. How many times can he put us through the same old misanthropic paces?
---