Review: 'The Stoning of Soraya M.'
Based on an 1986 incident, this portrayal of mob rule in an Iranian village is a haunting tale.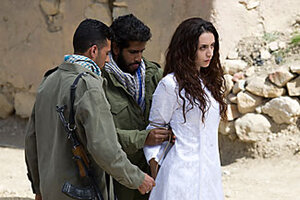 Courtesy of Roadside Attractions
The current turmoil in Iran gives added weight to "The Stoning of Soraya M.," based on a gruesome event in a small village in the southwestern part of that nation in 1986. As reported by the Paris-based Iranian journalist Freidoune Sahebjam in his 1994 bestseller "The Stoning of Soraya M.: A True Story," Soraya (well portrayed in the movie by Mozhan Marnò), was falsely accused of infidelity. She was buried up to her waist and pelted to death with rocks by villagers who included her father, two sons, and her husband, Ali (Navid Negahban), who set the entire horror show in motion after Soraya counteracted his intention to marry a 14-year-old girl.
This sequence, the film's culmination, goes on for about 20 minutes, and you feel every second of it in your bones. While it is certainly no more graphic than any number of action-flick blood baths, it is far more shocking because Soraya is a human being we have come to know.
---