Review: 'In the Loop'
This biting political satire will have you laughing hard as it skewers London and Washington politicos in the run-up to war.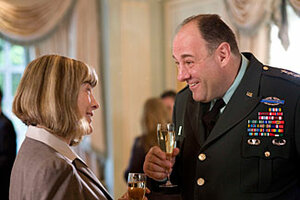 IFC/AP
"In The Loop" is hands down the funniest movie I've seen all year and also the smartest. A political satire set in London and Washington, it manages to skewer so many targets that, by the end, nothing is left standing. The film spins off the BBC series "The Thick of It," which was also directed and co-written by Armando Iannucci, and which, like "In the Loop," features Peter Capaldi as Malcolm Tucker, the prime minister's frenetically foul-mouthed communications director. (Tucker is reputedly based on former Prime Minister Tony Blair's chief strategizer, Alastair Campbell, who coined the phrase "the people's princess" for Princess Diana). "The Thick of It" was confined to the messy precincts of London politics. "In the Loop" enlarges the madness to ground zero – the White House.
---