Review: 'The Beaches of Agnès'
French new wave legend Agnès Varda turns the camera on herself in this whimsical and touching portrait.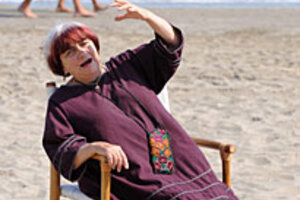 Alberto Pizzoli/AFP/Newscom
The film director Agnès Varda, whose new documentary is called "The Beaches of Agnès," has been called the "grandmother of the French new wave," but she could just as easily be called its godmother, not to mention its big sister, dutiful wife, and gossipy aunt.
As a public personality in the film community for more than 50 years, Varda has made a point, especially in her documentaries, of blending her personal life into her filmic one. She is, in short, an indispensable – though somewhat anomalous – figure in postwar film history.
Although she has made a number of powerful dramatic films, including "Vag­a­bond" (1985), starring Sandrine Bonnaire as a hard-bitten drifter, her documentaries, I think, show her off to fullest advantage. "The Gleaners and I" (2000) is her masterpiece, a one-of-a-kind movie about ragtag foragers and itinerant hoarders, among whom she counts herself a proud member.
"The Beaches of Agnès" is not as luminescent as that film, but it shares its handmade, improvisatorial spirit. The big difference between the two documentaries is that Varda wasn't on-screen much in "The Gleaners and I," but she's all over the place in "Beaches," which is both good and not so good.
Sometimes a filmmaker's presence in a "personal" movie is strongest when, paradoxically, he or she is on-screen sparingly. (The creative personality of an artist is invariably more complex than the flesh-and-blood personality.) Varda obviously disagrees. She begins "Beaches" by announcing, "I'm playing the role of a little old lady telling her life story," and then adds, "If you open people, you'll find landscapes. If you open me, you'll find beaches."
---