Rise of the guerrilla drive-in
Mobile, open-air movie theaters pop up across the country.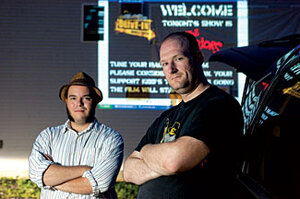 Joanne Ciccarello/Staff
On a July evening, Larry Clow and Bryan White hang two white dropcloths from the back of a gas station in Dover, N.H., to screen the 1979 flick, "The Warriors." They prep the projector and switch on an FM transmitter as 10 cars pull into a gravel parking lot to enjoy the show. It's not unlike the first drive-in movie theater experience.
In 1933, Richard Hollingshead Jr. projected home movies onto a screen hanging between two trees in his backyard in Camden, N.J.
Originally, it was a marketing idea he dreamed up to get people to purchase oil and other products from his family's gas station. Seventy-six years later, Mr. Hollingshead's invention is struggling to survive.
In their 1950s heyday, drive-in movie theaters around the nation reached 5,000. Today, there are 383, according to the United Drive-In Theatre Owners Association.
But avid movie-lovers and those who have fond memories of watching movies under the stars are trying to bring back the essence of the drive-in by doing it themselves. They're lugging projectors, FM transmitters, and even snacks in the back of their cars and screening movies at locations as diverse as the side of a Cineplex and a grain silo in the middle of a field. Call it the guerrilla drive-in. Across the United States, people are hosting screenings of cult classics and mainstream movies.
---