Review: 'Inglourious Basterds'
Tarantino turns history on its head in this World War II fantasy where the Jews come out on top.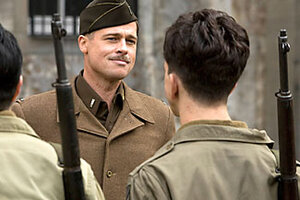 Francois Duhamel/AP
Quentin Tarantino's "Inglourious Basterds" – his misspellings, not mine – is a self-described fairy tale. Being that this is a Tarantino film, you can be sure it's closer to one of Grimm's more ghastly escapades than to "Sleeping Beauty." In this World War II fantasy, top Nazis get obliterated by Jewish avengers.
The film is divided into five chapters, each given its own heading. The first chapter, which is shot in the slow-burn, panoramic style of a spaghetti western, is titled "Once Upon a Time in Nazi-Occupied France." Subsequent chapters likewise have the look and feel of different moviemaking genres, although 1960s "Dirty Dozen"-ish stylistics predominate.
What does this filmic fandango add up to? Tarantino, who looks at life through a viewfinder, sees film as the ultimate righter of wrongs. Through the magic of movies he overturns the Holocaust. Who needs bummers like "Schindler's List" and "The Diary of Anne Frank," or even the historically based "Defiance," which featured Jews killing Nazis but was mucked up by all those pesky debates about morality? In a recent interview in The Atlantic, Tarantino says, "Holocaust movies are always having Jews as victims.... We've seen that story before. I want to see something different. Let's see Germans that are scared of Jews. Let's not have everything build up to a big misery, let's actually take the fun of action-movie cinema and apply it to this situation."
---