Review: 'Still Walking'
A family gathering slowly reveals deeper frictions in this Japanese seriocomedy.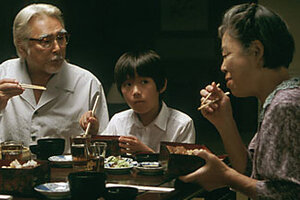 Production Committee / IFC
The Japanese seriocomedy "Still Walking" is one of those movies in which nothing happens and everything happens. It's about a family gathering that takes place over 24 hours, and at times the pace is so leisurely that I thought I was living every minute of those hours. But if you stay with it, there are pleasures to be had here.
Ryota (Hiroshi Abe) has come to the seaside home of his elderly parents for an annual remembrance of the eldest son, Junpei, who died many years ago saving a drowning child. Ryota, who has always been held in low esteem by his stern physician father, Kyohei (Yoshio Harada), has brought with him his new wife, Yukari (Yui Natsukawa), and stepson (Shohei Tanaka), which only adds to the tension. Also present is Ryota's sister, Chinami (You), who has a gratingly squeaky voice, along with her husband and two children. Her family, unlike Ryota's, is blissfully free from familial conflicts with the elders, and functions as a sort of perpetual comic relief. Chinami's biggest argument with her straight-talking mother Toshiko (Kirin Kiki) is over the best way to slice radishes.
(By the way, this is yet another movie, on the heels of "Julie & Julia," to feature numerous close-ups of sumptuous dishes. I'm becoming wary of entering a movie on an empty stomach.)
Ryota, an art restorer, is reluctant to divulge that he is currently jobless. His father figures it out anyway – he has an unerring radar for his son's weaknesses. Junpei had planned on becoming a doctor, only adding to his lustrous martyrdom. Ryota, by contrast, places far less value on professional status. He is more interested in being happy, which is why, almost from the moment he enters his parents' home, he wants to flee. He is still working on his marriage and slowly ingratiating himself with his stepson. He doesn't need the added burden of the same old family dysfunction.
---