Controversy flourishes at Toronto film fest
Michael Moore's latest, along with a spotlight on films from Tel Aviv, brings out the protesters, while others swoon over Clooney.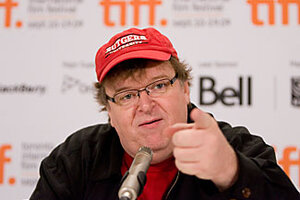 Chris Young/The Canadian Press/AP
The opening night movie at the 34th Toronto International Film Festival was "Creation," featuring Paul Bettany as a seriously distraught Charles Darwin. The festival's opening night party, which immediately followed, featured strolling players, in an Adam and Eve motif, covered in nothing but gray body paint and strategically placed fig leaves.
This absurdist yin-yang effect is a constant at the festival, which runs from Sept. 10-19 and screens more than 300 movies from around the world. The showing of Michael Moore's uneven new documentary, "Capitalism: A Love Story," for example, was preceded by an on-screen array of corporate sponsor plugs, including one from General Motors, one of the film's many targets.
Moore, who strode on stage after the gala screening in his trademark working-class windbreaker and baseball cap, paints a rather halcyon picture of capitalism in America until the advent of Reaganomics. "We, the American people allowed this thing to happen," he said, referring to the current economic meltdown. Later, in a press conference, he dresses all in red to underscore the socialist-communist charges he anticipates from critics. "We bought into this thing of 'Jesus, we could all be rich.' And it was just a big ruse. It's part of the Ponzi scheme. What is the difference between what Bernie Madoff did and what Reaganomics was all about?"
---