Movie review: 'Capitalism: A Love Story'
Michael Moore's amorphous, told-you-so attack is short on remedies.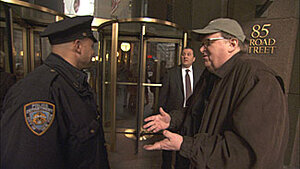 Overture Films/AP
Michael Moore's new documentary, "Capitalism: A Love Story," is a sob story laced with acid tears. Early on in the film Moore offers up home movies of himself as a happy tyke in Flint, Mich. His auto worker father is comfortable in his employment; his pension is guaranteed. All is right with the world. Clips from 1950s educational films, featuring crew-cut, stentorian narrators, proudly tout the capitalist way of life. "If this was capitalism, I loved it," says Moore in voice-over, in his most mock-satiric tone.
According to Moore, the advent of Reagan­om­ics blighted this paradise and led directly to today's economic meltdown. There's a hefty I-told-you-so factor at work here, as Moore not so humbly inserts footage from his 1989 "Roger & Me" documentary about the closing by General Motors of Flint's auto factory. The subtext to "Capitalism: A Love Story" is: "If you'd only listened to me back then."
---