Review: 'Couples Retreat'
Despite the credible lineup of acting talent, the comedy falls embarrassingly flat.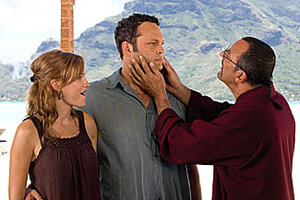 John Johnson/Universal Pictures/AP
If the Bora Bora travel commission was hoping to get a boost from "Couples Retreat," a rude awakening awaits. Photographed (blearily) against French Polynesian picture-postcard backdrops, this deeply unfunny film is further proof that movie comedy these days – in its acting, writing, directing – is far below the average sitcom. But even by current dismal movie comedy standards, the awfulness of "Couples Retreat" is a standout. Four troubled couples, played by, among others, Vince Vaughn and Malin Akerman, Jason Bateman and Kristen Bell, and Jon Favreau and Kristin Davis, converge on an island resort for some fun-in-the-sun marital counseling. I'm sure that everybody involved in the making of "Couples Retreat" had a marvelous vacation. It's the audience for this film that will require therapy. Grade: F (Rated PG-13 on appeal for sexual content and language. Originally rated R for some sexual material.)
---
Follow Stories Like This
Get the Monitor stories you care about delivered to your inbox.