Review: 'Where the Wild Things Are'
Max's imagination lets loose in this engrossing tale based on Maurice Sendak's children's classic.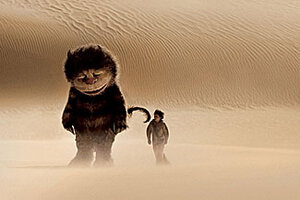 Matt Nettheim/Warner Bros. Pictures/AP
Maurice Sendak's 1963 children's classic "Where the Wild Things Are" contains exactly 10 sentences – 338 words of text – and 18 pictures. Not exactly major movie material, you might say, except that a major moviemaker, Spike Jonze, almost pulls it off.
Judged strictly as a story, the long-awaited film that Jonze and coscreenwriter Dave Eggers have crafted lacks vroom and bite. Children, especially, love a good story, and, watching this mood piece movie, they may get antsy early.
But Jonze should not be judged by ordinary standards. He, is after all, the director of "Being John Malkovich," a movie-within-a-movie-within-a-conundrum, and "Adaptation," which was about the impossibility of concocting a coherent story line. (Both were written by Charlie Kaufman.) In "Where the Wild Things Are," Jonze is taking a large risk. Without benefit of a strong narrative, he is trying to capture the propulsive fascinations of childhood fantasies. (The great Japanese animator Hayao Miyazaki tries, more entrancingly, for the same thing.)
---
Follow Stories Like This
Get the Monitor stories you care about delivered to your inbox.