Review: 'Araya'
Gem of a documentary tracks the hard life of salt workers on a bleak Venezuelan peninsula in the late 1950s.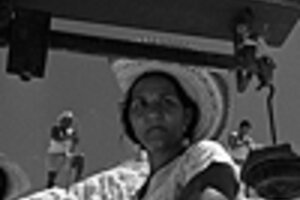 Courtesy of Milestone Films
Are you one of those moviegoers who likes discovering forgotten gems? Have I got a jewel for you.
In 1959, Margot Benacerraf, a 32-year-old Venezuelan, premièred her semidocumentary "Araya" at the Cannes film festival and held her own with the likes of Luis Buñuel's "Nazarín," François Truffaut's "The 400 Blows" and Alain Resnais's "Hiroshima Mon Amour," with which it shared the international critics prize.
Despite its accolades, Benacerraf's 82-minute black-and-white film was never widely seen. It was first distributed in France, where she studied film, in 1967, and did not première in Venezuela until 1977. It played a few American cities in 1987 as a part of a Latin American film series. Thanks to its current distributor, Milestone Films, which supervised its restoration, "Araya" can now be seen in its complete form for the first time since its initial release.
---