La Danse: The Paris Opera Ballet: movie review
Fred Wiseman turns his perceptive lens on the rigors and drama of dance in 'La Danse: The Paris Opera Ballet.'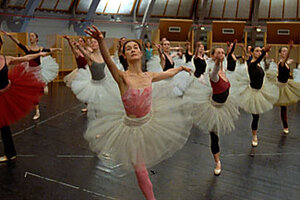 Courtesy of Zipporah Films, Inc.
I can think of few finer pleasures than watching great dancing in the movies. Can there be anything more elating than a number starring Astaire and Rogers, Gene Kelly, the Nicholas Brothers, Bill "Bojangles" Robinson? And yet the sad truth is that most movie directors don't have a clue how to feature dance – how to make it come alive without decimating its essential spatial integrity with a lot of distracting close-ups and cutaways. Dancers were meant to be shown in full.
One of the many wonderful things about the new Fred Wiseman documentary "La Danse: The Paris Opera Ballet" is the way it reveals dancers in all their hard-won, full-bodied glory. Wiseman previously made a documentary in 1993 about the American Ballet Theater, and he understands that the drama of dance is, quite simply, in the dance, not in camera pyrotechnics. When he shows these supernally gifted ballet performers in rehearsal, he lets their movements do the communicating. And why not? Their language is as eloquent as words could ever be. Wiseman is clearly in thrall to these dancers, but, as in all his films, his eye is relentlessly scrupulous. "La Danse" is the work of an ascetic sensualist. His unwavering eye clarifies for us the meaning of motion.
---