'Up in the Air': movie review
George Clooney is a high-flying corporate hatchet man in 'Up in the Air,' who ends up on a flight of self-discovery in this intelligent, charming comedy.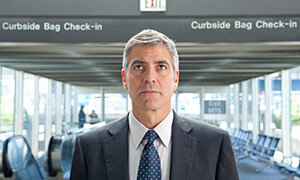 Dale Robinette/Paramount Pictures/AP
In "Up in the Air," George Clooney's Ryan Bingham is a "career transition consultant" i.e., a guy who travels around the country doing the dirty work of corporate bosses too cowardly to fire their own employees. The movie's title is an apt description of Ryan's existential condition, and his literal one, too, since he spends on average 322 days a year on the job, often on planes. His proudest achievement in life is that he is nearing 10-million-mile frequent-flyer status.
Ryan is an antihero for these parlous times and, of course, since he's played by Clooney, we wait for him to redeem himself and become a full-fledged hero. But it's to the credit of director Jason Reitman – who co-wrote the screenplay with Sheldon Turner based on the 2001 Walter Kirn novel – that the movie for the most part scrupulously avoids sentimentality.
Reportedly Reitman began working on this material four years ago, when the economy was good and Ryan's situation could be played for laughs. Not any longer. There are numerous sequences in "Up in the Air" where Ryan meets face to face with total strangers and, in his purring, "concerned" corporatespeak, drops the bomb. And then we see the instantaneous reactions he elicits, the horror and panic and misery and rage. Many of these workers were culled by Reitman from the ranks of actual laid-off workers, and their testimony intermittently brings the film a lot closer to, say, a Fred Wiseman documentary like "Welfare" than to a comedy from the guy who gave us "Juno" and "Thank You for Smoking."
---