Invictus: movie review
Morgan Freeman brings appropriate gravitas to his role as Mandela in 'Invictus,' but occasionally Clint Eastwood's movie slips into hero worship.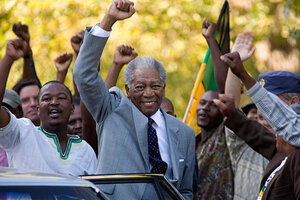 Keith Bernstein/Warner Bros./AP
Morgan Freeman has officially played God several times in the movies, but he – or is it just his voice? – often seems God-like even when playing mere mortals. In the new Clint Eastwood movie "Invictus," Freeman plays Nelson Mandela, the South African anti-apartheid crusader and a man I think can fairly be characterized a demigod. The challenge for Freeman and Eastwood was to humanize Mandela, while at the same time do his legend proud.
It's a noble but ultimately contradictory impulse. "Invictus" has an understated grace, but too often it comes across as hero-worshipy.
The anthem-of-humanity story line is stirring and, as far as it goes, historically accurate. (The script by Anthony Peckham, a white South African émigré, is based on the book "Playing the Enemy," by John Carlin.) Released from prison after nearly 30 years, Mandela in 1994 becomes president of South Africa and almost immediately launches a daring idea for uniting a dangerously divided nation. With the World Cup a year away, he attempts to rally his countrymen around the South African rugby team, the Springboks, whose members are almost entirely Afrikaners.
---