Crazy Heart: movie review
In 'Crazy Heart,' Jeff Bridges plays a washed-up crooner who rallies – an old story told with fresh honesty.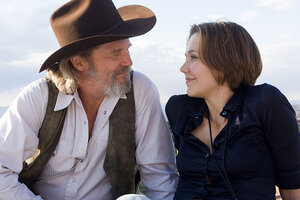 Lorey Sebastian/Fox Searchlight/AP
"Crazy Heart" is about a boozy, washed-up country-and-western star, and if you think you've seen it all before, you haven't. That's because Jeff Bridges, a great actor, plays the singer.
Bridges's Bad Blake still has a loyal following but mostly plays bowling alleys and rundown honky-tonks. He prides himself on never missing a show but, once onstage, his participation is iffy. In one garishly funny sequence, he breaks off mid-number, rushes into a back alley to throw up, and then rejoins the band as if nothing was wrong. In his own strung-out way, Blake has aplomb. Somewhere deep inside this bushy-bearded guy with a bum leg and a big belly is the young star he once was.
The best thing to happen to Blake is Jean Craddock (Maggie Gyllenhaal), a starry-eyed feature writer for a Sante Fe newspaper who interviews him and winds up in his bed. Groupies are nothing new for Blake, but Jean, who is divorced with a little boy, is different. She's smart, tough-minded, and has class. When she first walks into his dingy motel room, he remarks that she "makes the room look bad," and he's not trying to butter her up. He's just being honest.
It is because of Jean that Blake, whose health is declining, decides to reform. Because of the responsibilities she imposes, Jean is also why he stumbles. The romance between these two doesn't quite convince, perhaps because, as Gyllenhaal plays her, Jean seems too level-headed, too unmasochistic, to fall for Blake. But this criticism may be off the mark. "Crazy Heart," familiar as it seems, doesn't play out the way you expect it to. What Gyllenhaal, and debuting writer-director Scott Cooper, are saying is: You can be nobody's fool and still be a fool for love.
---