The Young Victoria: movie review
A portrait of Queen Victoria before she took the throne, 'The Young Victoria' comes across at times rather like a plodding royal pageant.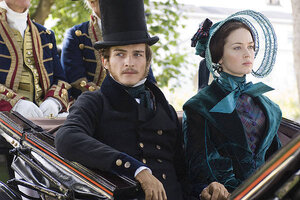 Liam Daniel/Apparition Films/AP
If you have a hankering for British royalty and the glories of Empire, "The Young Victoria" will likely satisfy your craving. But all others be forewarned: This movie starring Emily Blunt as Victoria could well have issued from the royal family itself. (Sarah Ferguson, in fact, is one of the producers.)
The film essentially begins in 1837, just before the 18th birthday of Princess Victoria of Kent, next in line to the throne owing to the absence of any other heirs of King William (Jim Broadbent, acting Dickensian). The machinations of Victoria's mother, the Duchess of Kent (Miranda Richardson) to void her daughter's ascension are balanced out by Victoria's incipient love duet with Albert (Rupert Friend), the nephew of her uncle, Belgian King Leopold (Thomas Kretschmann).
Blunt and Friend strike a few flinty sparks, and Julian Fellowes's script has its share of dry-as-dust witticisms. Most of the time, though, it's a stiff pageant. The director, Jean-Marc Vallée is French-Canadian. Mon Dieu! Grade: C+ (Rated PG for some mild sensuality; a scene of violence; and brief, incidental language and smoking.)
---
Follow Stories Like This
Get the Monitor stories you care about delivered to your inbox.