It's Complicated: movie review
In the comedy 'It's Complicated,' Meryl Streep and Alec Baldwin bring intelligence and panache to their parts as a divorced couple having an affair with each other.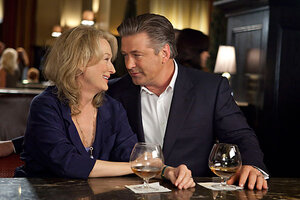 Melinda Sue Gordon/Universal Pictures/AP
The title of the new Nancy Meyers comedy is "It's Complicated," but actually, it isn't. The movie is no more complicated than other Meyers movies such as "The Parent Trap" or "What Women Want" or "Something's Gotta Give." In this sitcom-ish world, nothing is so troubling that a good makeover can't solve.
I'm somewhat more partial to "It's Complicated" than others in the oeuvre because its cast members – specifically Meryl Streep and Alec Baldwin – have such farcical panache that at times I almost convinced myself I was watching something smart. Both actors are a lot better than this material requires – or deserves.
Streep plays Jane Adler, a high-end Santa Barbara bakery owner and chef who has been divorced for 10 years from hotshot lawyer Jake (Alec Baldwin). With the last of the three kids off to college, she faces being home alone for the first time in a long time. This is not an entirely unpleasant situation for her. But at a family powwow in New York centered around the graduation of her middle child, she ends up having drinks with Jake, leading to the inevitable.
---