A Town Called Panic: movie review
This Belgian gem, 'A Town Called Panic,' is not just for children.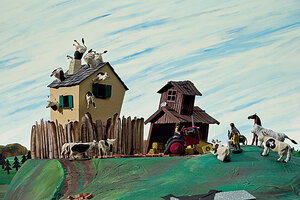 Zeitgeist Films
With all the high-profile animated movies out there now, it would be a loss if "A Town Called Panic" was stampeded in the shuffle. This marvelous little Belgian gem is making the rounds, and it's as funny, and often as inventive, as, for starters, "Up" and "Fantastic Mr. Fox." A spinoff of a popular Belgian TV series, it was the only stop-motion animated film ever chosen as an official selection at the Cannes film festival.
It has no elaborate computer-generated effects, no 3-D. Nothing is hand-drawn, as in "The Princess and the Frog." Instead, it opts for one of the oldest techniques in the biz. And, unlike the stop-motion "Mr. Fox," it dispenses with celebrity voices altogether. All we see are animated plastic toys – a horse, a cowboy, an Indian chief, tractors, pigs, cows, deep-sea divers – of the sort you might find strewn across a boy's messy bedroom floor.
Stéphane Aubier and Vincent Patar, the Belgian filmmaking team responsible for "A Town Called Panic," have described how they came to create their characters: "We hit on the idea while visiting flea markets and garage sales on Sundays. Because dinosaurs and the figurines from manga [Japanese comics] were all the rage, kids had lost interest in older, basic toys like cowboys and Indians and farm animals. So we decided to rescue these poor orphans."
---