Leap Year: movie review
'Leap Year' is a comfy fantasy whose final destination is obvious.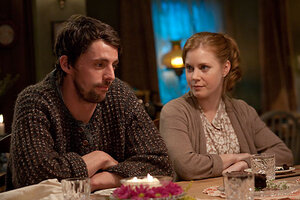 Jonathan Hession/Universal Pictures/AP
Amy Adams is such a likable actress that she makes the romantic comedy "Leap Year" worth watching even though we've seen it all before. The trick to these films is making our ride as enjoyable as possible even though the final destination is obvious.
In the case of "Leap Year," however, everything is obvious. Adams plays Anna, a real estate trendoid who has been waiting four years for her Boston cardiologist boyfriend Jeremy (Adam Scott) to propose. Finally she hatches a plan: Taking advantage of an old Irish custom that permits women to propose to men on Leap Day, she trails Jeremy to a Dublin medical meeting. But bad weather waylays her and she's forced to hire a surly innkeeper, Declan (Matthew Goode), to motor her across the Irish wilds to Dublin.
---