Police, Adjective: movie review
Set in Romania, 'Police, Adjective' is a cerebral thriller that takes a witty, dry look at the nature of postcommunist justice.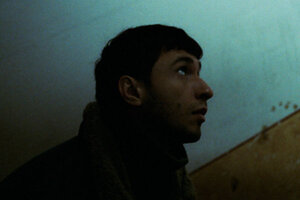 Marius Panduru/Courtesy of IFC Films
The award for Most Ungainly Title for a Current Movie goes to the new Romanian film "Police, Adjective," written and directed by Corneliu Porumboiu. This intermittently terrific cerebral thriller does, indeed, hinge on the proper use of dictionary definitions, but the film is really about the oppressive blahness of small-town, postcommunist Romania. In such surroundings, parsing definitions can almost stand for high drama.
In the decrepit northeastern city of Vasliu, undercover cop Cristi (Dragos Bucur) is tailing a high school teenager, Victor (Radu Costin), whose friend has informed on him for dealing marijuana. In fact, Victor is only an occasional user, and Cristi tries to curtail the surveillance by arguing that the boy's offense is minor. Why, he asks of his superiors, should Victor be arrested and his life ruined when, in regard to leniency in such matters, Romania will likely soon fall in line with the rest of Europe?
The recently and not altogether happily married Cristi, whose wardrobe seems to consist of a pair of pullover sweaters, is a good cop. But he may, in the postcommunist scheme of things, be burdened with too much "conscience." It is this word, "conscience," that the film finally hinges on.
Cristi, weary, can no longer abide his assignment and, in one of the more unlikely but marvelous set pieces in modern movies, has a lengthy sit-down over a dictionary with his supercilious police captain boss (the great Vlad Ivanov, who played the abortionist in "4 Months, 3 Weeks and 2 Days"). It's the kind of sequence that might have cropped up in an early Godard movie – in others words, it's brilliant, boring, enlivening, maddening.
---