The Girl on the Train: movie review
In 'The Girl on the Train,' Catherine Deneuve plays the mother of a young girl who fakes an anti-Semitic attack and creates a media furor.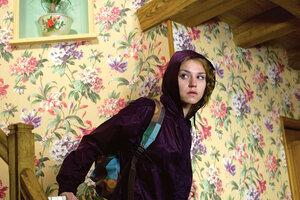 Strand Releasing
Catherine Deneuve, one of the screen's legendary beauties, has never looked less glamorous than she does in "The Girl on the Train." I mean this as a compliment. Normally, it's pure affectation when an actress known for her deluxe looks dresses down for a part and goes the no-makeup route. But Deneuve, playing a widow named Louise who makes a living baby-sitting, seems blissfully free of vanity. She was never a great actress, exactly, but she was something rarer – a great movie icon. In "The Girl on the Train," she seems to be saying to us: "I have more to offer you than my legend."
The director and coscreenwriter André Téchiné has worked with Deneuve seven times now, and more than any other filmmaker he has brought out in her a plangent mysteriousness that goes way beyond chic. He has also, especially in this newest film, expunged the goddess from her repertoire. How else could Catherine Deneuve convincingly play, of all things, a baby sitter?
As Louise's daughter Jeanne, Émilie Duquenne is contrastingly ethereal. A compulsive roller blader, she takes up with Franck (Nicolas Devauchelle), a heavily tattooed wrestler with shady business connections. Jeanne's rollerblading is symbolic of the way she conducts her life: She glides in and out of predicaments with an almost scary abandon.
The crux of the film is a disastrous lie that Jeanne perpetrates for no apparent reason. She claims to the police that she was the victim of an anti-Semitic attack on a Paris commuter train and, to back up her story, has cut her face and drawn a swastika on her stomach.
This episode is actually based on an infamous true story from 2004 that scandalized France.
---