From Paris With Love: movie review
John Travolta stars in 'From Paris With Love,' a comedy-thriller-action movie that falls short on all three counts.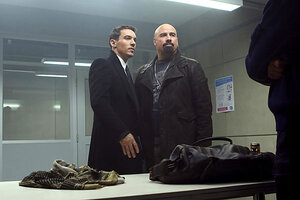 Rico Torres/AP
What movie features John Travolta as a gunslinger with a startling hairstyle who craves a "Royale with cheese" – i.e., a McDonald's Quarter Pounder with cheese?
If you answered "Pulp Fiction," you're only half right. In the new thriller "From Paris With Love," Travolta, playing an unscrupulous CIA special agent, sports a shaved head. He also has a nasty goatee. Despite the obvious in-joke references to "Pulp Fiction," Travolta's leather-jacketed, bling-festooned look here mostly reminded me of his biker baddie in "Wild Hogs," not a movie I wish to be reminded of.
Without Travolta's Charlie Wax cavorting about Paris shooting off his guns – and his mouth – this movie would be much the poorer. It's pretty poor anyway. I realize logic doesn't play a central role in movie narratives anymore, especially in thrillers, but "From Paris With Love" lowers the bar, and then some. This is the kind of movie where the only reason things happen is because it says so in the script. Example: When an American diplomat in a motorcade is told that a security threat necessitates a change of itinerary, she haughtily vetoes the idea – and runs right into an ambush. In these kinds of movies, common sense is always trumped by big explosions.
---