The Ghost Writer: movie review
Roman Polanski's thriller 'The Ghost Writer' carries his trademark cruel humor and pervasive dread.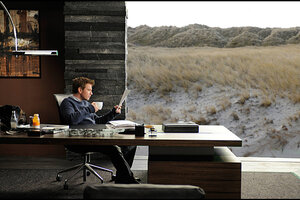 Kinowelt GmbH/Handout/REUTERS/
Roman Polanski's deft political thriller "The Ghost Writer," based on the 2007 Robert Harris bestseller "The Ghost," is equal parts comedy and black comedy. Gracefully, inexorably, it goes from silly to scabrous. The film may seem insubstantial while you're watching it, but, in its own tingly, deadpan way, it has many of Polanski's trademarks: a curdling, cruel humor; an outsider hero who is also a patsy; and a pervasive dread.
Ewan McGregor plays a character – nameless in both the book and the movie and listed in the credits simply as "The Ghost" – who is hired to ghostwrite the memoirs of former British Prime Minister Adam Lang (Pierce Brosnan) after his previous collaborator is found mysteriously washed up on the shores of Martha's Vineyard. Lang is encamped in a luxurious, isolated house on the island while conducting a stateside lecture tour. This luxury is no match for the drizzly grayness of the location. As Lang's tart wife, Ruth (a first-rate Olivia Williams), puts it, it's like being exiled with Napoleon in St. Helena.
---