Terribly Happy: movie review
Set in a remote Danish town, 'Terribly Happy' follows noirish plot twists as the locals apply their own rule of law.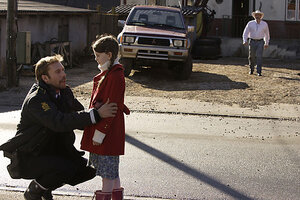 Oscilloscope Laboratories/AP
As the first word in the title "Terribly Happy" suggests, the second word is only appropriate in an ironic sense. Henrik Ruben Genz's film is, after all, a Danish production – nominated for an Academy Award for Best Foreign Language Film, in fact. And, if we can generalize based on the occasional Danish films that show up in the United States, those folks don't do "happy." Hamlet was not the only melancholy Dane: Nobody would classify Carl Theodor Dreyer and Lars von Trier as sunshine boys, either.
In Genz's noirish movie, Copenhagen cop Robert Hansen (Jakob Cedergren) takes up an assignment as the sole officer in a small town out in the boondocks. Having just emerged from treatment for some sort of breakdown, he's been sent into rural exile either as punishment or rehabilitation; the new posting is supposed to offer him a chance to regain his sea legs. Or, more accurately, his bog legs, since the town's character seems inextricably bound up with its bog, which, among other things, is valued by the locals as a good place to dump bodies.
No wonder, then, that they're distrustful of all meddling outsiders. "That's not the way we do things here," they helpfully advise Robert at every turn. The town is downright creepy – a single dysfunctional organism that either assimilates you or crushes you. (Ominously, we are never told exactly what became of his predecessor.)
IN PICTURES: Academy Award for Best Picture nominees
Robert's professionalism is immediately tested by Ingelise (Lene Maria Christensen), a slightly shopworn blonde, who, while reporting that her brutish husband, Jørgen (Kim Bodnia), beats her, unmistakably puts the moves on him. When he doesn't respond, she withdraws her complaint and leaves in a huff.
---