Green Zone: movie review
Set in US-occupied Baghdad, 'Green Zone' confronts the WMD fiasco with Matt Damon playing an Army office tracking down the truth.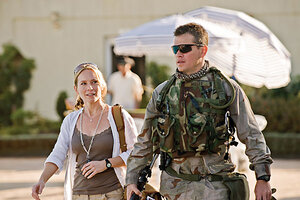 Jasin Boland/Courtesy Universal Pictures/MCT/Newscom
Despite its recent Oscar bonanza, "The Hurt Locker" is in line with other Iraq-themed movies that have tanked at the box office, including "Stop-Loss," "In the Valley of Elah," "Body of Lies," and "Rendition." Now along comes "Green Zone," starring Matt Damon and directed by Paul Greengrass, who also made the last two "Bourne" movies. Action-packed to a fault, it's clearly intended to break the genre's cycle of uncommerciality.
Damon plays Army Chief Officer Roy Miller, whose job it is to hunt down WMDs in the initial shock-and-awe stages of the Iraq invasion. Every location searched by his team draws a blank. When he confronts newly arrived Bush administration honcho Clark Poundstone (Greg Kinnear) with his suspicions about faulty intelligence, his concerns are pooh-poohed.
---