Vincere: movie review
'Vincere' follows Mussolini's early rise to power and the little-known story of the wife and child he abandoned along the way.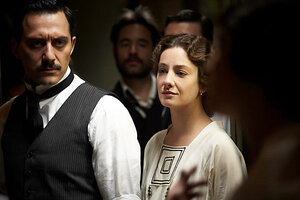 Newscom
Writer-director Marco Bellocchio's "Vincere" is an amazing, galvanic experience. It's about the hushed-up story of Benito Mussolini's first wife and child, but no one will ever mistake this movie for a standard biopic. It's too raw, too primal.
Ida Dalser (Giovanna Mezzogiorno) first fleetingly encounters the young Benito (Filippo Timi) in Trent in 1907. In 1914 in Milan, before the outbreak of World War I, her passion for this anticlerical, antimonarchist union organizer and Socialist is once again triggered. Now a successful beauty salon owner, she sells all of her possessions in order to finance the newspaper he founds, Il Popola d'Italia, which becomes a central organ of the Fascist Party.
She also bears him a son in 1915, Benito Albino, and soon discovers that he has disowned them both and remarried. Marginalized by Mussolini's operatives, unable or unwilling to produce her marriage certificate, she is practically barricaded in her sister's home before being dragged to a mental institution, where her ravings about being Mussolini's wife fall on disbelieving ears. Bellocchio directs these sequences with an operatic flourish – Carlo Crivelli's great score is a real temperature-raiser – but the opera seems to be occurring entirely inside Ida's perfervid brain.
Bellocchio dares us to identify with Ida's righteousness but he also shows us the self-immolating consequences of her fury. Bellocchio, at 70, has made movies for more than 40 years bearing down on the bloody intersection of art, politics, and Roman Catholicism. For him, Ida is both heroine and holy horror.
---