How to Train Your Dragon: movie review
A geeky warrior-in-training befriends a dragon and flips conventional wisdom on its head in the charming animated movie 'How to Train Your Dragon.'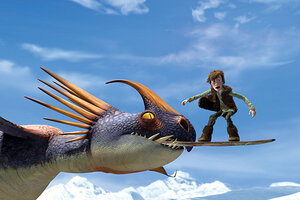 Paramount Pictures/PRNewsFoto/File
The highest-grossing films of both 2009 ("Avatar") and, to date, 2010 ("Alice in Wonderland") both had wide 3-D releases, along with their 2-D counterparts. Are audiences really this nuts about 3-D? Or are they responding to other qualities in these particular films? In either case, Dreamworks Animation's new "How to Train Your Dragon" is the latest to use the process, which doesn't really add all that much to its many low-key pleasures.
Jay Baruchel (the geek in "Tropic Thunder") provides the voice of Hiccup, son of Viking chief Stoick (Gerard Butler), who despairs of his scrawny offspring ever taking his place as supreme dragon slayer. In fact, after helping heal a wounded dragon and secretly training him as a sort of pet, Hiccup becomes, in essence, a pacifist warrior.
All of this is presented in a charming, generally amusing fashion. While almost entirely family-friendly, the film deserves its PG rating: One plot point near the very end would have totally freaked my tender childhood sensibilities. Grade: B+ (Rated PG for sequences of intense action and some scary images, and brief mild language.)
---
Follow Stories Like This
Get the Monitor stories you care about delivered to your inbox.