Clash of the Titans: movie review
Sam Worthington plays demigod Perseus in this high-energy 3-D reincarnation of the 1981 'Clash of the Titans.'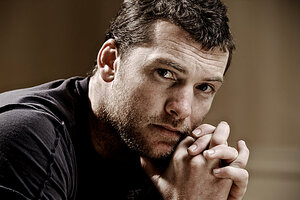 Kristian Dowling/AP/File
The clashing titans in "Clash of the Titans" are a pretty sorry lot. There's Zeus, played by Liam Neeson with a beard best described as magisterially scraggly. Then there's Zeus's brother Hades, a Ralph Fiennes looking even more hollow-cheeked than usual. Demigod Perseus, Zeus's bastard son, is incarnated by none other than "Avatar" lead Sam Worthington. He looks like he's primed to appear in a sequel to "Gladiator." If he doesn't watch out, he's going to end up as Russell Crowe 2.0.
I have no overly fond memories of the original 1981 "Clash of the Titans," although Ray Harryhausen's stop-motion special effects were zippy and Laurence Olivier as Zeus was Olympian camp. (With the possible exception of his work as Neil Diamond's rabbi father in "The Jazz Singer," this is probably the performance Lord Olivier would have least liked to be remembered for.)
---
Follow Stories Like This
Get the Monitor stories you care about delivered to your inbox.