Date Night: movie review
Steve Carell and Tina Fey played a bored suburban couple who stumble into the crime world in the action comedy 'Date Night.'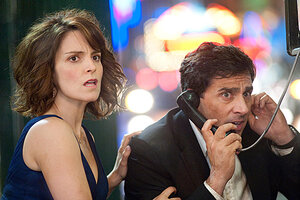 Myles Aronowitz/20th Century Fox/AP
Why are Steve Carell and Tina Fey wasting their time, and ours, by appearing in the miserable comedy "Date Night"? Replenishing their bank accounts, I suppose, but still – there must be better movie material out there for such sharp performers. It used to be that television was the fallback position for movie actors, most of whom only deigned to appear on the tube when they were over the hill. Nowadays, TV fare, especially dramas and (some) comedies – like Carell's "The Office" or Fey's "30 Rock," not to mention "Saturday Night Live" – are usually smarter and edgier than their movie counterparts.
---
Follow Stories Like This
Get the Monitor stories you care about delivered to your inbox.