Chloe Moretz in 'Kick-Ass' -- are toddlers toting Uzis next?
Adapted from a comic book, Chloe Moretz and a bunch of wannabe young superheroes in 'Kick-Ass' don't shy from expletive-filled hard-core violence.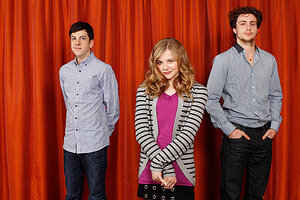 Lucas Jackson/Reuters
What can you say about a movie in which an 11-year-old girl slices and dices hordes of hoodlums while mouthing choice obscenities that might give even a truck driver pause? Welcome to "Kick-Ass," the latest and most egregious example of a comic book series-turned-movie. If we keep upping – or, to be accurate, lowering – the ante like this, pretty soon we'll be watching toddlers toting Uzis. Or haven't I already seen that?
The perfervid imagination of comic book author Mark Millar was also the basis for the Angelina Jolie splatterfest "Wanted." As a special service, he and director and co-writer Matthew Vaughn, and Vaughn's co-screenwriter Jane Goldman, have thoughtfully reached out to preteens by providing them with their very own superhero – though the film's R rating rather puts a damper on that bit of generosity, no?
The premise to "Kick-Ass," which plays like a Disney family film hijacked by Quentin Tarantino, is not unpromising, though, like everything else in the movie, it pays homage to – i.e., rips off – a million other comic book actioners. Dave Lizewski (Aaron Johnson) is a geeky New York high-schooler who decides he wants to be a superhero. Calling himself Kick-Ass, he mail orders an unflattering costume, confronts the local bullies, and gets himself so banged up that he ends up with metal plates in his back. This turns out to be a good thing because his dulled nerve endings mean he can fight again and not feel pain. Alas, we in the audience are not so lucky. I found it mighty painful sitting through all the bone crushing and blood-letting.
---