Exit Through the Gift Shop: movie review
Graffiti artist Banksy creates an amusing documentary about life on the guerrilla end of art in 'Exit Through the Gift Shop.'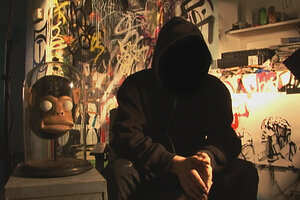 Paranoid Pictures/AP
The highly secretive British street artist Banksy, who leaves his stenciled handiwork on walls all over the world – from the West Bank to Park City, Utah – is listed as the director of the documentary "Exit Through the Gift Shop." This credit is not entirely accurate, but then again, the film has the patina of a con job anyway – and a first-rate one, too.
The project was initiated (if the film is to be trusted) when Thierry Guetta, a highly annoying, roly-poly Frenchman living in Los Angeles, took it upon himself to infiltrate and videotape – i.e., badger – some of the world's most notorious street artists as they went about their clandestine night work. In addition to Guetta's cousin, known as Space Invader, there's also Neckface, Swoon, Cheez, Coma, and, perhaps the best known, Shepard Fairey (who went on to design the Obama "Hope" image).
---
Follow Stories Like This
Get the Monitor stories you care about delivered to your inbox.