Letters to Juliet: movie review
The romantic plot twists of 'Letters to Juliet' are yawningly predictable but the beautiful scenery makes it all bearable.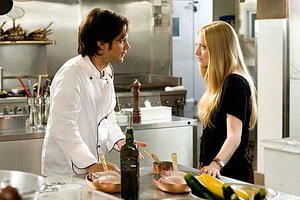 Summit Entertainment/AP
There is a brick wall in Verona, Italy, the setting for Shakespeare's "Romeo and Juliet," where women for generations have been leaving notes seeking romantic advice from "Juliet." The letters are dutifully answered by teams of volunteers.
Upon this frail filament of a story line is strung "Letters to Juliet," a movie that has more sap than a pine forest. Amanda Seyfried, who seems to be everywhere in the movies these days, plays Sophie, an American vacationing in Italy with her restaurant owner fiancé Victor (Gael García Bernal). A fact checker for the The New Yorker who dreams of becoming a writer, Sophie gets her chance when she accidentally pries loose from the Verona wailing wall an undelivered 50-year-old letter, which she answers herself, from an Englishwoman named Claire (Vanessa Redgrave) about a lost love. Sophie's response is so heartfelt that it has the surprise effect of luring Claire, along with her wary, belligerent grandson Charlie (Christopher Egan), back to Verona in search of lost lover Lorenzo. Filling up entire notebooks with observations for an article, Sophie teams with them to track him down.
---