Solitary Man: movie review
Michael Douglas plays a self-destructive sleazy car salesman down on his luck in 'Solitary Man.'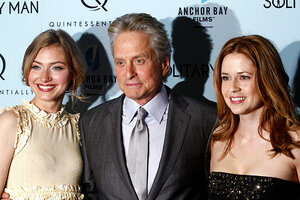 Peter Kramer/AP/File
Michael Douglas is best known for playing unscrupulous corporate types, most iconically Gordon Gekko in "Wall Street," but he has also had a thriving minicareer playing dissolute types. Arguably his best performance is as the unraveled English professor in "Wonder Boys." So it was with no small expectation that I looked forward to "Solitary Man," where Douglas plays an amalgam of high-on-the-hog and down-on-his-luck. What could be a better combo for him?
As it turns out, the fit is a bit bulky. He's playing Ben, known on TV and on the cover of "Forbes" as "New York's honest car dealer." That was before he cheated his way out of his profession. Trying to crawl back into the business, he derails his chances by consistently chasing college-age women, or their mothers. Ben is even more successful as a self-sabotager than he was as a CEO. Is he deliberately trying to do himself in? Codirectors Brian Koppelman and David Levien, working from Koppelman's script, are vague about it. They're content to have us sit back and watch Ben disintegrate. No Dostoevskian depths here.
---
Follow Stories Like This
Get the Monitor stories you care about delivered to your inbox.