Breathless: movie review
Jean-Luc Godard's seminal 1960s gangster classic 'Breathless' is newly restored.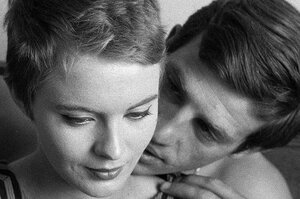 Rialto Pictures/Studio Canal
To honor its 50th anniversary, Rialto Pictures is releasing Jean-Luc Godard's debut feature "Breathless," one of the most famous and influential movies ever made, in a newly restored 35-mm print supervised by its director of cinematography, Raoul Coutard.
Most so-called "revolutionary" movies do not age well – "Easy Rider" is the prototypical example – but "Breathless" still leaps off the screen. It's a seminal movie for filmmakers and critics alike. This is as it should be, since, in a sense, the film is a cinematic essay on movies adored by Godard, who began his career as a critic. Humphrey Bogart is practically the film's patron saint.
Jean-Paul Belmondo, who had previously acted on stage and in a few minor movies, plays Michel, a chain-smoking con artist who early on, fleeing the police in a stolen car, shoots and kills a cop. Arriving in Paris, he falls in with sometime American girlfriend Patricia, played by Jean Seberg, who hawks the International Herald Tribune on the Champs Elysées. With the police on his heels, Michel makes a rather half-hearted attempt to escape, but his fascination with the inscrutably wholesome Patricia holds him back, We start out believing that the flamboyantly charming Michel, with his prankish, adolescent sociopathology, is the dangerous one, only to realize that it is Patricia who is the betrayer. She is the innocent abroad who, without her full awareness, turns out to be anything but innocent.
---