Micmacs: movie review
Micmacs, a crazily inventive French film, has a freneticism that will eventually draw you in.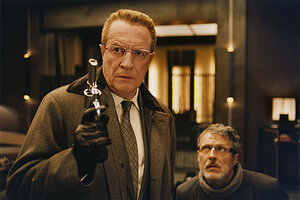 Bruno Calvo/Sony Pictures Classics/AP
The films of director Jean-Pierre Jeunet are so rabidly inventive that, if you waltz into them unawares, you're likely to feel poleaxed. He's the French equivalent of Terry Gilliam, another filmmaker who always has to have eight things happening on the screen simultaneously – and the more bizarre the better.
Jeunet's new film, "Micmacs," issues from the same perfervid mindscape that gave us "Amélie," "A Very Long Engagement," and (as codirector with Marc Caro), "Delicatessen" and "The City of Lost Children." It's a mindscape I'm of two minds about: I love all that invention but after a while it wears me down. Nonstop eccentricity takes its toll. Jeunet's movies make me long for a little normality.
Up until about the halfway point "Micmacs" wrung me out, but then it started to grow on me. Or maybe it's just that I adapted to the freneticism and decided, as a survival tactic, to go with the flow. Unlike most of Jeunet's other films, "Micmacs" has a cast of characters that is altogether appropriate to its helter-skelter stylistics.
---