'Toy Story 3': Pixar's 'Toy Story' movies keep getting better and better
'Toy Story 3' is even better than its predecessors!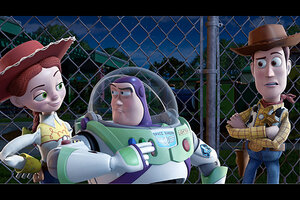 Disney Pixar/AP
Pixar's "Toy Story" movies just keep getting better. The latest, and I hope not last installment, "Toy Story 3," has more emotional power than either of its predecessors. Come to think of it, it also has more emotional power than most of the live-action movies out there.
Expertly mounted in 3-D, the movie begins with the 6-year-old Andy's toycentric imaginings, complete with thrill-ride-type pyrotechnics for his favorites, including homespun cowboy Woody (voiced by Tom Hanks), comically stalwart Buzz Lightyear (Tim Allen), and the rest.
What makes this sequence so thrillingly comical is that it parodies the Jerry Bruckheimer-Joel Silver school of blam-pow filmmaking even as it tops its effects. It's also a marvelous demonstration of how movies can inspire kids to create entire fantasy worlds. (The "Toy Story" films certainly serve that function.)
---
Follow Stories Like This
Get the Monitor stories you care about delivered to your inbox.