Marisa Tomei and John C. Reilly star in 'Cyrus': movie review
Marisa Tomei and John C. Reilly flex their comedic skills in 'Cyrus.'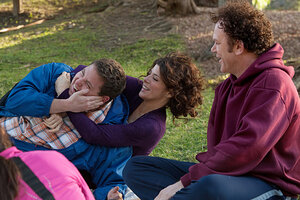 Chuck Zlotnick/Fox Searchlight/AP
John C. Reilly has an uncanny gift for making his characters seem simultaneously depressed and lively. In "Cyrus," he's found his archetypal role as John, a sometime editor and layabout who, after seven years, is still reeling from his divorce. (He was dumped.) When he finds out his ex-wife (Catherine Keener) is remarrying, he goes into a tailspin but, in a deus ex machina moment, the woman of his dreams, Molly (Marisa Tomei) comes up to him at a party, and pretty soon they're a couple. The catch: Her live-in, 21-year-old son Cyrus (Jonah Hill), Molly's best friend and, as soon becomes obvious (though not to Molly), John's worst enemy.
Written and directed by the brothers Jay and Mark Duplass, "Cyrus" is a furtive little farce with a deadpan style all its own. Reilly doesn't go for the obvious laughs. John's ardor for Molly is actually quite touching, which is why, when Cyrus threatens to wreck his elation, he's both bereft and enraged.
---
Follow Stories Like This
Get the Monitor stories you care about delivered to your inbox.