'Knight and Day': Tom Cruise and Cameron Diaz star as a fugitive couple
'Knight and Day' stars Cameron Diaz and Tom Cruise in this high-energy action comedy.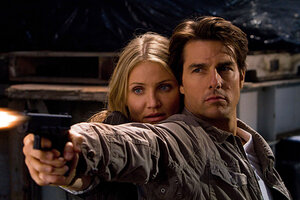 Frank Masi/20th Century Fox/AP
While watching the new Tom Cruise-Cameron Diaz spy thriller "Knight and Day," I kept flashing back to Cary Grant and Eva Marie Saint in Alfred Hitchcock's "North by Northwest" and Grant and Audrey Hepburn in Stanley Donen's "Charade," the best Hitchcock movie that Hitchcock never made.
This is not surprising, since "Knight and Day," directed by James Mangold and written by Patrick O'Neill, draws heavily on both of them. But, ah – what a difference. Those movies had a deftness and wit that propelled the action and enhanced the romance.
"Knight and Day," as is true of just about every movie these days that has a gun in it, is a supersized kid pic. It's easier to sit through than, say, "The A-Team," which was even louder and made even less sense. (In other words, it made no sense.) But as Cruise and Diaz kept dodging and trading bullets – and knives and rocket launchers and grenades – I couldn't help wondering: With all the money expended on this movie, couldn't anybody come up with a few good lines in between all the kabooms?
Cruise plays Roy Miller, a secret agent who has supposedly gone rogue. We are first introduced to him as he flirts with a fellow passenger, June Havens (Diaz), on a near-empty jetliner from which he soon methodically wipes out the flight crew. Taking over the controls, he crash-lands in a cornfield (pale shades of "North by Northwest.")
---
Follow Stories Like This
Get the Monitor stories you care about delivered to your inbox.