Joan Rivers: A Piece of Work: movie review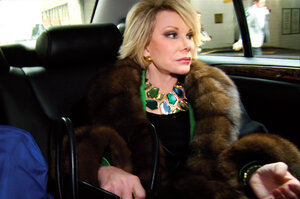 IFC Films/AP
In the documentary "Joan Rivers: A Piece of Work," the famous, and famously strident, comedienne tells us: "When I am on stage, it is the only time I am truly happy." Judging from this movie, she doesn't look very happy on stage, either. She looks kind of angry.
But maybe anger and happiness mean the same thing to her. After all, at another point in the film she declares, "I'm furious about everything. Anger fuels the comedy."
Welcome to the on-screen psychoanalysis of Joan Rivers, of which she seems equal parts willing participant and antagonist. The filmmakers Ricki Stern and Anne Sundberg followed Rivers around for a good portion of her 76th year as she shuttles between gigs stretching from the Edinburgh Fringe Fest to a casino club in northern Wisconsin. She's always in motion, even when she's sitting still. Her greatest fear is an empty calendar.
Stern and Sundberg have previously made movies about such subjects as the genocide in Darfur, so they must have been well steeled for Rivers's juggernaut. Still, their attempt to capture the "real" Rivers raises the question – who is that? After more than 40 years on the comedy circuit, Rivers is so thoroughly a show-business animal that she herself may not know the answer. Or care.
Should we? This may depend on how much you like, or are fascinated by Joan Rivers. We are told repeatedly in this film, by her assistants, by acolytes such as Kathy Griffin, and, most of all, by herself, that she was a groundbreaker. Before she came on the scene, so the story goes, female comics talked nice, they didn't bring up sexual unpleasantries, they weren't raw.
---