Despicable Me: movie review
Steve Carrell is the voice of Gru, a Scrooge-like character in the 3-D animated comedy 'Despicable Me.'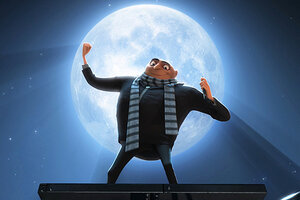 Universal Pictures - Illumination Entertainment/AP
In the pretty good new 3-D animated comedy "Despicable Me," Steve Carrell provides the voice for Gru, a bald-pated bad guy with an unplaceable Eastern European accent who, in best Scrooge-like fashion, becomes a good guy. Carrell has stated in interviews that his accent "falls someplace between Bela Lugosi and Ricardo Montalban," and that's about right.
Gru wants to first shrink and then steal the moon. To do this he needs to abscond with the shrink-ray gun owned by his archenemy Vector (voiced by Jason Segel). As backup, Gru adopts three little orphan girls. (Thus begins the Scrooge reformation.)
The visual wit almost always trumps the verbal. One exception: One of the little girls complains, "When we got adopted by a bald guy I thought this would be a lot more like 'Annie.' " It's too bad this film comes so soon after "Toy Story 3" – that's a tough animated act to follow. Grade: B (Rated PG for rude humor and mild action.)
More movie reviews
---
Follow Stories Like This
Get the Monitor stories you care about delivered to your inbox.