Great Directors: movie review
'Great Directors' brings the likes of Bertolucci and Lynch out from behind the camera to talk technique.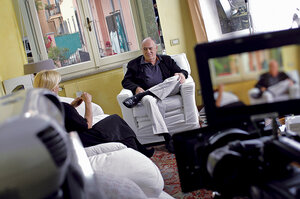 Anisma Films
Movie actors are notoriously inarticulate about their craft, but what about movie directors? If the documentary "Great Dir­ectors" is any indication, the returns are a bit more promising.
Director Angela Is­mailos set out to do more than simply interview 10 acclaimed international directors. She sought to celebrate them. Her lineup of filmmakers is eclectic but, at least in Ismailos's view, they share a cutting-edge psychosocial sensibility. Her honor roll: Bernardo Bertolucci, David Lynch, Stephen Frears, Agnès Varda, Ken Loach, Liliana Cavani, Todd Haynes, Cath­erine Breillat, Rich­ard Linklater, and John Sayles.
A number of these directors are, for me, either minor, such as Cavani (whose Nazi fantasia "The Night Porter," with Dirk Bogarde and Charlotte Rampling, is an inadvertent camp classic) or, like Breillat, somewhat unfamiliar. Loach, the British social realist, has never been a big favorite of mine. The strong-arm politicking in his movies often subverts their humanity.
---