Dinner for Schmucks: movie review
'Dinner for Schmucks': Paul Rudd and Steve Carell star in a remake of the French farce 'The Dinner Game.'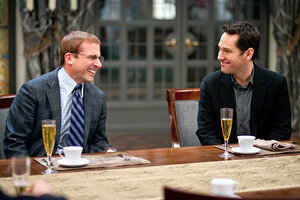 Merie Weismiller Wallace/Paramount Pictures/AP
In the ho-hum comedy "Dinner for Schmucks," the odd couple pairing of Steve Carell and Paul Rudd is supposed to be an instant laugh riot – a Laurel and Hardy matchup for our time.
True, they look funny together. Rudd is so blandly clean-cut that just about anybody playing opposite him would seem like an oddball. Just in case, Carell has been outfitted with a mangy hairpiece and buckteeth and wears a windbreaker even indoors. But once we get over the visual contrast between these two, there's very little else to fall back on.
Rudd's Tim is an ambitious low-level financial analyst at a cutthroat private-equity firm in Los Angeles. He lives beyond his means, drives a Porsche, and has a sweet girlfriend, Julie (Stephanie Szostak), who loves him but isn't quite ready to settle down.
When Tim's boss, Lance Fender (Bruce Greenwood), presents him with a chance to zoom up the corporate ladder, he jumps at the opportunity.
A new office and a bigger paycheck are Tim's if he takes part in a cruel ritual put on by Lance for the delectation of his fellow fat cats. Each guest invited to Lance's mansion for a dinner party must bring with them an "idiot" – the more clueless and hapless the better. The bearer of the biggest idiot wins the boss's favor.
(Just for the record, and because the title of this film has stirred up some controversy, it should be pointed out that an idiot is not the same thing as a schmuck, a derogatory Yiddish term for, to be polite about it, "a jerk." The point, I suppose, is that the fat cats here are the real schmucks, and not the "idiots." End of language lesson.)
---
Follow Stories Like This
Get the Monitor stories you care about delivered to your inbox.