Cairo Time: movie review
'Cairo Time,' with Patricia Clarkson, offers a look into a dalliance in Egypt's scenic capital.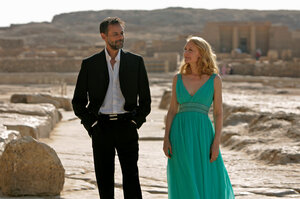 IFC Films
The travelogue function of movies is often denigrated, but it's one of the reasons people started going to them in the first place. Emily Dickinson wrote that "There is no frigate like a book." That was before they invented movies.
I was reminded of this movie-travelogue connection while watching "Cairo Time," starring Patricia Clarkson as Juliette, an American women's magazine editor who travels to Cairo to meet her husband Mark (Tom McCamus), a UN official, for a three-week vacation. The film, written and directed by Syrian-Canadian Ruba Nadda, isn't altogether satisfying on any level but it has one thing going for it that lifts it above its faults: It beautifully conveys what it's like for a traveler to suddenly enter into an alien environment. This is a movie that is not afraid to take its time and let the strangeness sink in.
I was reminded in some ways of Sofia Coppola's "Lost in Translation," with Bill Murray as a has-been actor whiling away his jet lag in Tokyo. That film captured the groggy poetry of being caught in limbo, and so, in a few early sequences, does "Cairo Time."
---