The Tillman Story: movie review
'The Tillman Story' explores how the military tried to spin the NFL star's death to its advantage, creating a myth that his family refused to believe.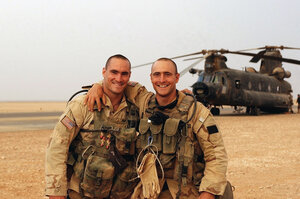 Donald Lee/AP/The Weinstein Company
Pat Tillman was a rising NFL star with the Arizona Cardinals who turned his back on a multimillion-dollar contract to enlist, along with his brother Kevin, for a three-year tour of duty as an Army Ranger following the Sept. 11 attacks.
In 2002 he was posted to Iraq. His second tour took him to Afghanistan, where the Army reported in April 2004 that, at 27, he had been killed in action after rescuing dozens of his fellow soldiers from a Taliban ambush, an act that won him a posthumous Silver Star.
A few weeks after Tillman was eulogized as a national hero by, among others, President Bush, it was reported by the military that Tillman had, in fact, been killed by friendly fire.
"The Tillman Story," directed by Amir Bar-Lev and narrated by Josh Brolin, is a scathing indictment of how Tillman's death, aided by complicitous media coverage, was cynically manipulated by the military as a propaganda windfall. It's also, in a larger sense, a movie about how our need for heroes can derange our sense of moral rightness.
---